Our Friends
Coastal Dog Walkers
Coastal Dog Walkers established in 2015. They are independently owned and are very proud of the reputation they have built up as a reliable, local dog walking business. Based in North Shields theirservice areas currently include Tynemouth, North Shields, Cullercoats and Whitley Bay.
Providing you with a friendly and professional dog walking service, treating each dog as if they were their own giving them the love and attention they deserve whilst in their care. John pops into the Deli on his walks with the dogs on their travels and the dogs are always happy and well cared for.
https://www.coastaldogwalkers.co.uk/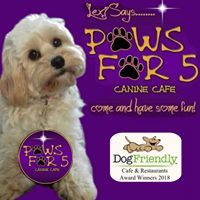 Paws for 5 Canine Cafe
Seaham Co.Durham
Where your dogs can come and have fun and run around off lead ,You can meet new friends and grab a tasty bite for you and your dog from the Menu....or cool off with a cold drink or Ice cream. If you have shy dogs they can sit back and watch the other dogs till they are ready to join in the play.
They have puppy socials, certain breed days every now and then , fun dogs walks. you can book your dogs Birthday Party with them for one dog or more!!
1st Place Winner of Dog Friendly Cafes/ resturants 2018